For all of you who participate in the @alohakiwichallenge and have never tried lettering before, I've made a few practice sheets with the quotes of this month (download here as a ZIP file via my dropbox). You can print them out, trace them, take them as inspiration, copy them, whatever helps you to get into trying out some lettering.
You can see how I'm holding the printed sheet against a window, with a piece of watercolor paper on top of it. This way it's supereasy to trace the design. Use a waterproof pen so that you're able to paint over the lettering with watercolors later.
Please don't sell these designs as your own and tag me @thealohastudios if you use them on your social media.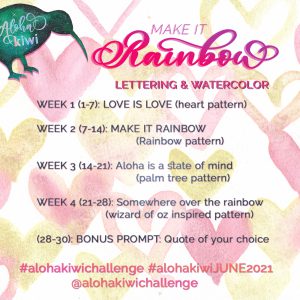 Week 1: Lettering quote: Love is love. Watercolor pattern: hearts
Week 2: Lettering quote: Make it rainbow. Watercolor pattern: rainbows
Week 3: Lettering quote: Aloha is a state of mind. Watercolor pattern: palm trees
Week 4: Lettering quote: Somewhere over the rainbow. Watercolor pattern: Wizard of oz related
Bonus: Lettering quote of your choice, pattern of your choice
The Alohakiwichallenge is hosted by Stacey @stakiwicolours and me. Every month we have a different theme and a different color palette for you. Join us any time you like!