Making your own mini zine is simple and fun! For this Aloha watercolor zine I used a 9″x12″ (22.75×30.5 cm)  108lb (160gsm) mixed media paper by Fabriano.
I folded it in half, then in half again, and one more time to create 8 rectangle partitions. Then unfolded it again and made a cut in the middle as indicated in the template.
If you're going to use watercolors I recommend taping the paper down with washi tape: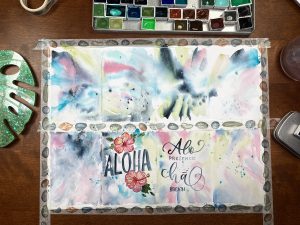 You can paint across the whole sheet of paper or fill in every rectangle by itself. And of course you could paint the backside of the sheet of paper, too: create an 8-page-zine on one side and a full sheet poster on the backside.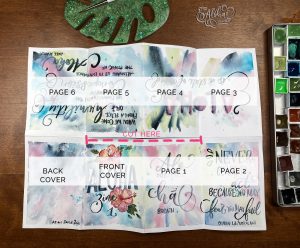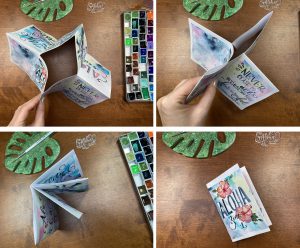 If you're only going to draw on the paper with a pencil or fineliner you can use regular copy paper.
You can create your zine on your computer or ipad and then print it out, fold and cut it.
To distribute a small edition of your zine,  copy it or scan & print it.
You can download the template as a psd file and jpg here from my dropbox. The template is 8″x11″ (letter size) and 300dpi. Within this zip file I've also included the pictures shown here on the website.